Student Exhibitions
March is Youth Art Month
The City of Clearwater participated in the national observance of March is Youth Art Month by issuing a Proclamation on March 3, 2016 at the City Council meeting. As part of Clearwater's recognition of the national observance, a celebration was held on Sunday, March 13, 2016 at the "March is Youth Art Month K- 8 Art Exhibition" Award Reception at the Clearwater Main Library.
Sue Castleman, Visual Art Supervisor PreK-12, Pinellas County Schools, Christopher Hubbard, City of Clearwater Cultural Affairs, CAA Arts Education Co-chairs Maria Cantonis and Kay Campbell welcomed the young artists, their teachers, families and members of the community. The event is to recognize the work of the young artists selected for the exhibition from entries throughout the county.  Each student chosen to participate received a certificate. Awards of Merit and Excellence were presented to 18 young artists.
The month-long observance is to emphasize the benefit of arts education for all children—developing self-esteem, organizational skills, use of time and resources, appreciation of the work of others, cooperation and critical thinking skills, all of which are vital to the success of our future leaders—our children.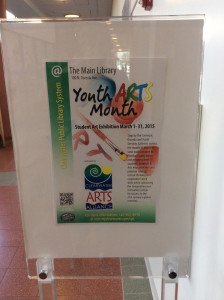 High School Exhibitions
St. Petersburg College All Pinellas High School Art Exhibition
Each year CAA participates in a juried exhibition of the best high school artists from throughout the county at the Crossroads Gallery, SPC Clearwater Campus.  This exhibition is a collaboration of St. Petersburg College, Pinellas County Schools, the Pinellas Arts Educators Association, the Clearwater Arts Alliance and Dunedin Fine Arts Center.  CAA sponsors along with the Dunedin Fine Art Center the awards for the three top artists.
Clearwater High School Awards Night
As part of our recognition of high student achievement, CAA has participated in the Clearwater High School Senior Awards Night by sponsoring four top Visual Art Awards.